We offer a complete line of high-quality bottle and filtration water cooler for delivering pure, safe water – hot, chilled, or at room temperature. Choose from a wide array of sizes, features, and options to match your requirements and your décor.
Bottled Water Cooler Models
Cook 'N Cold Models
Serve tepid water for cooking, chilled water for drinking. Tough blow-molded cabinets will look good through years of use. Outstanding features include unique cooling probe technology and easily sanitizable water reservoir.
Hot 'N Cold Models
Serve water for all beverages, hot or cold. Rugged cabinet resists scuffs and abrasions. Dishwasher-safe reservoir, unique probe technology and other design features ensure dependable, convenient service for years. Serve up to 45 cups of piping hot water for instant beverages and soups – and one gallon of cold drinking water per hour.
Cold Water Only
Plenty of refreshment in a minimal amount of space. Recessed area on the cabinet front keeps faucet and drip receptor out of harm's way.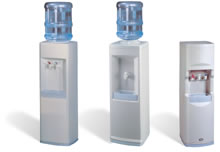 Room Temperature Dispenser
Put 5 gallons of non-refrigerated water at your fingertips – without plumbing, electricity, or changing bottles. Ideal for drinking, cooking, and watering plants.
Cook 'N Cold Counter-top
Fits on a kitchen cabinet and slips neatly under the wall cabinets. It dispenses chilled and room temperature water, and may be used with or without a bottle.
The Finest Bottled Water From Wisconsin Delivered To Your Home Or Office.